HSHS St. Anthony's Memorial Hospital launches advanced hand hygiene monitoring technology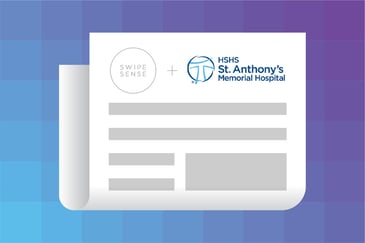 (EFFINGHAM, IL) – HSHS St. Anthony's has recently been recognized by a number of organizations for its performance excellence and patient safety. They were recently named one of the Top 100 Rural & Community Hospitals in the United States by The Chartis Center for Rural Health, as well as were recognized for their commitment to patient safety and quality with the Illinois Health and Hospital Association (IHA) Innovation Challenge: Partners in Progress Award from IHA's Institute for Innovations in Care and Quality.

Now, Hospital Sisters Health System (HSHS) and St. Anthony's are taking another step in a demonstration of their commitment to patient safety with an investment in new hand hygiene monitoring technology. HSHS has selected SwipeSense Electronic Hand Hygiene Monitoring System as the hospital's technology partner to reduce the potential for Hospital Acquired Infections by standardizing hand hygiene performance. HSHS and St. Anthony's become one of the first hospitals in the state of Illinois to adopt electronic hygiene improvement tools.
President and CEO of HSHS St. Anthony's Memorial Hospital Theresa Rutherford said, "High quality health care and safety are core to our Mission at St. Anthony's. We have always been diligent with hand hygiene compliance across our organization. This new monitoring technology is just another way to increase our transparency with hand hygiene to ensure our patients are as safe as possible while in our care."
SwipeSense was launched in 2011 to focus on eliminating preventable deaths caused by poor hand hygiene. SwipeSense is now installed in over 20 health systems nationwide and expects its footprint to more than double in 2019. Over 300 colleagues at St. Anthony's will all wear a badge that automatically registers hand washing compliance. SwipeSense works in the background so staff and patient care are not disrupted.
A key driver of growth in electronic hand hygiene monitoring is the Centers for Medicare and Medicaid Services (CMS) focus on reducing Hospital Acquired Conditions. Recently, the Agency for Healthcare Research and Quality (AHRQ) said that CMS set a target to reduce Hospital Acquired Conditions (HACs) by 20 percent from 2014 to 2019, which is expected to lead to 53,000 fewer deaths annually and save taxpayers $19.1 Billion. In a recent report, AHRQ already showed significant progress already with a reduction of 13 percent between 2014 and 2017. This is estimated to save 20,500 lives and reduce health care spending by $7.7 Billion. Reductions in infections caused by poor hand hygiene were one of the leading drivers of the reduction.
"We are excited to be on the forefront of implementing electronic hand hygiene monitoring throughout our health system and this region," said Rutherford. "Using the SwipeSense Hand Hygiene Monitoring System takes us to another level in ensuring we are following our established hand hygiene protocols so we can keep our patients safe."