CEO of the Healthcare Financial Management Association (HFMA) on the mounting pressures to address fragmentation in healthcare, while reminding us not to lose sight of life-saving medical miracles

Joseph Fifer is the President and CEO of Healthcare Financial Management Association (HFMA), the nation's leading membership organization of healthcare finance executives and leaders. Fifer has dedicated his career to healthcare finance and has been recognized twice as one of the Most Influential People in Healthcare by Modern Healthcare.
With more than 23 years of hospital CFO experience, Fifer has had a front row seat to the industry's evolution and some of the difficult issues facing healthcare over time. He has been involved with HFMA for almost 30 years and after serving as a volunteer, Board member, and Chair of the Board, he made the transition from working in hospitals, to lead the organization.
In addition to his very important day job, Fifer conducts bi-weekly interviews with industry leaders as part of the weekly HFMA podcast, 'Voices in Healthcare Finance.' We encourage you to check it out! In this edition of SwipeSeries, SwipeSense CEO, Mert Iseri flips the script, interviewing Fifer on everything from what worries him as a patient, to his advice on how healthcare tech companies can build trusted partnerships with health systems.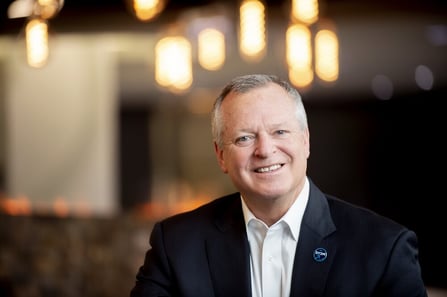 Mert Iseri (MHI): You've worn many important hats in healthcare. If you were to take your hat off as an executive, and put yourself in the shoes of a patient, what concerns do you have when you or a loved one walks into a hospital?
Joseph Fifer (JF): I have been a patient and have been in those shoes many times. I've had multiple injuries and some major orthopedic surgeries. As a patient, what worries me the most is clinical safety and the things that are totally out of my control. I know just from being around hospitals, errors can happen.
Fear of these errors inspire me to be as focused on transparency, as I am. You might wonder how I connect those two topics. I'm lucky to have good insurance and financial resources, but if I had to worry about money when going into a clinical setting, it would only add to my anxiety. When you go in as a patient, you want to be solely focused on your care and your care team, not about how to pay for your care. We have a responsibility as an industry to help patients, especially in the event of unexpected treatment, due to a clinical safety situation.
MHI: I couldn't agree more. At SwipeSense we're also very focused on helping to eliminate preventable harm for patients in hospitals. From your time working in hospitals, are there any particular patient stories that stick out in your mind, where resources presented a challenge?
JF: Yes, of course. In one instance, a patient was undergoing bariatric surgery. While these procedures are generally very safe and often times covered by insurance, when a case goes bad, they go really bad. We had a patient who ended up with complications, they were in the hospital for an extended period of time, and didn't have insurance. Following the patient's treatment, a family member wrote the hospital a check for $900,000.
MHI: Wow. That's unbelievable.
If you look back at how hospitals operated 20 years ago vs. how they operate today, what are some of the things that you're thankful for in terms of the steps we've taken in the right direction?
JF: There's so much frustration with healthcare in our society today. We're losing trust of the American people. Everyone from politicians, to patients, to the media are unhappy. Yet we forget about the millions of miracles that happen in our various healthcare settings all the time as a result of life-changing advancements. The fact that I've had major surgeries and have gone home to sleep in my own bed the same day, is indicative of the miracles that occur every day for people who have far worse, more serious conditions, than I've had to deal with. I'm very thankful for that and think with all of the frustration, we lose sight of the incredible work being done. It's been an honor to serve those caregivers from a financial perspective.

MHI: You're right in that we all need to take a step back and appreciate the incredible work and research being done to save lives. A lot of the changes and advancements we see are driven by policy, and as we know, don't always move as fast as we'd like them to.
If you had a magic wand, and could change anything about healthcare policy in the U.S. what would you change?
JF: Based on my own personal views, there are two flaws that need to be addressed.
First, from payers to providers, our industry is fragmented. I've lost both of my parents, and my mother-in-law in this last year of old age. I've witnessed a very fragmented care process. In many cases, there were multiple specialists involved, yet a complete lack of coordination among caregivers. For example, physicians in the hospital weren't on the same page with caregivers in the long-term care setting. This fragmentation is very frustrating.
We're also facing a challenge with our price-setting process. Public and private insurers are leading to a cost shift. From a policy perspective, I believe the creation of a common set of patient identifiers is very important. There's been rhetoric about this for a long time, but I don't think we're anywhere near a common patient identifier or language, and frankly, I'm not sure our society is ready for this considering the list of data concerns. But if we can achieve interoperability and get to a point where a common platform allows for all of the systems to talk to each other, I think we could set the stage for defragmentation of our industry in a uniquely American way.
We're not alone in this. Other countries are fragmented as well, but I'm not sure we need to adopt another country's system. There are ways I think we can weave together the pieces, which is why I use the phrase, 'a uniquely American way.'
MHI: I'm certainly an optimist and hope like you, we can overcome this in our own 'unique American way.'
Policy is one of the ways to address these challenges, but when I think back to your point about the daily miracles performed by physicians, nurses, and other frontline staff– their dedication and passion, amidst the industry's fragmented environment, their work demonstrates how our healthcare industry operates in a 'uniquely American way.'
On that note, as we work to build the next generation in healthcare, if you had the opportunity to design a course that all healthcare professionals who interact with patients are required to take, what would you teach?
JF: This might sound biased, but I would require everyone to take HFMA's Business of Healthcare Curriculum. I'll go as far to say, it's irresponsible for people to work in a decision making role in healthcare, and not have healthcare literacy or be clued into how healthcare finances work.
When a clinician in a clinical leadership role takes time to cross over and learn about healthcare finance, they to me, are the most effective leaders. Too many times, I've seen physicians or caregivers seek new treatment for their patients without direction from the organization and not really care about the financial implications of that. It doesn't reflect the practical reality that we all live in, one where we have a limited pool of dollars to spend. We need to be smart and cost effective, while also understanding how money flows through our industry.
I've seen clinicians that at least have an appreciation and curiosity about healthcare finance, and that's all they really need if they have a good relationship with their financial counterparts like the CFO, but it has to start with some level of knowledge for how healthcare is financed.
MHI: Do you have any examples during your time as an operator where you wish people had taken this course?
JF: I have put together 23 budgets for hospitals and health systems and over the years they got progressively harder. Everyone is fighting for resources and everyone has a passion to move their particular agenda item forward. Most of the time they don't pause to consider the financial implications of their agenda or the fact that we're in an environment where we have to divvy up a limited financial resource pie.
MHI: It's certainly getting more and more difficult. As part of putting together those budgets, you probably signed off on decisions to invest in technologies that would improve a hospital's operations, outcomes, and other processes. If you could recommend a single piece of technology for every healthcare system to invest in, what would it be?
JF: If I may suggest two.
In terms of a financial recommendation, I would recommend a much more comprehensive cost accounting system. One that extends into various organizations that would enable you to analyze costs for an entire care continuum. I know those systems exist today and those are wise investments for health systems to make.
In terms of a technology that would have the largest impact on revenue, I would recommend a an easy to use, comprehensive clinical system that stores information to let caregivers look across the entire spectrum of care, necessary for a patient. It would include predictive analytics that enable physicians and caregivers to create a single plan for each patient that considers all of the inputs required for a comprehensive plan.
Again, I come from the experience of having aging parents with multiple specialists, and especially in their later years, having to piece together all of the critical elements of their care was very difficult. Whether it's yourself or a caregiver, someone has to ultimately make decisions for that one person. We need to help make sure many of those decisions are informed as possible.
MHI: Given how complicated care is today, this is something you can 100% imagine hospitals and patients would benefit from in terms of allowing for multiple access points, multiple means of care delivery. It's very uncommon today for only one caregiver, let alone one healthcare institution to care for a patient.
For the healthcare technology companies that are working to build and provide resources like these to solve the industry's challenges, what advice would you give to a health tech leader to help them transition their organization from being seen as a vendor by a healthcare system, to a partner?
JF: The difference between a vendor and a partner is best characterized by the level of trust between the two, and the best way to establish that trust, is sincerity. From my experience, many healthcare tech companies significantly overpromise and underdeliver. A partner is honest about what the product does, what it doesn't do, and helps the purchaser truly understand how the capabilities are going to help achieve a desired outcome. Simply put, stop overpromising. Be honest about your product.
Secondly, sit in our shoes as a healthcare provider. Whether in my shoes as a CFO, or a physician treating patients on the frontline. A partner needs to really understand how that technology is being utilized in the designated setting. There is so much stress attributed to healthcare information systems now, right or wrong, and in a partner relationship, there is a common, thorough understanding of what it's like on the frontline for caregivers to use the technology in a way that is efficient and benefits patient outcomes. I would buy from someone who promised less than someone else, if I believed it. It's about relationships. Pure human to human relationships. It really doesn't have to be more complicated than that.
"For healthcare technology companies and health systems, the difference between being viewed as vendor versus a partner is best characterized by the level of trust between the two, and the best way to establish that trust, is sincerity."
MHI: This piece about empathy rings so true. A problem won't go away by hiding. And that's what you would expect from colleagues, your family, and any partner in your life. Joe, thank you so much for your time and for sharing your thoughts with. It was a pleasure.
The Healthcare Financial Management Association (HFMA) is an A-political organization. All of the content in this article are personal views of Joseph Fifer, and not on behalf of HFMA.
Hear more insight from Joe Fifer on the state of today's healthcare industry in a recent article featured in the January 2020 edition of Healthcare Financial Management's hfm Magazine.
You can also listen in to the weekly HFMA 'Voices in Healthcare Finance' podcast, where Fifer interviews top industry professionals bi-weekly.

Want to join the SwipeSeries conversation? We're looking to connect with interesting people who are passionate about healthcare, technology, innovation, entrepreneurship, you name it! Want to share your story or have an idea for a great interview? Get in touch.