A pandemic response expert walks into a bar…
Or rather, it was a quaint farm-to-table restaurant, as Dr. Michael Consuelos recalls. In late February 2020 just as the fear of Coronavirus (COVID-19) spreading in the United States began to escalate, and before the country began to shut down, Consuelos and his wife sat down at the restaurant's bar for dinner. Earlier that day, he had been on the phone with a hospital in Houston that was starting to see early COVID-19 cases.
The man seated next to Consuelos and his wife sparked up casual conversation, asking about his line of work and what they thought might happen if the threat of COVID-19 was real. Little did the man know, he was speaking with an emergency preparedness and pandemic response expert, who was already thinking ahead to the potential threat and necessary response.
It's certainly not every day that you meet a pandemic response and recovery expert. It's even less likely that they also happen to be a pediatrician, an Army Veteran, a hospital executive with extensive capital planning and government emergency response experience, who is building a consulting service to advise C-suite leaders on how to effectively implement and adopt organizational change, particularly as a result of the COVID-19 pandemic.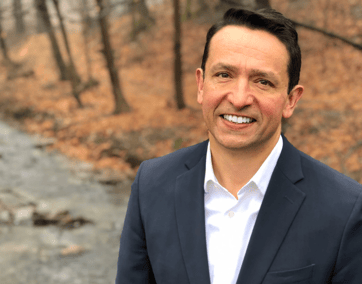 ---
Pandemic response and recovery advisor shares the important questions we should be asking in order to safely reopen hospitals and businesses in the time of COVID-19. - Dr. Michael J. Consuelos
---
Uncertainty about how to reopen safety is looming across industries. Schools and universities are facing different challenges than hospitals and manufacturing on what it takes to ensure the safety of students, patients, staff, workers, and their communities. While leaders might view their respective challenges as their own, Consuelos provides a unique perspective on how they can learn, prepare, and adapt based on what other industries, including the Army, have done to properly defend and protect from harm in emergency situations.
As the pandemic continues to force change upon many of the ways we conduct our daily lives, his consulting service, MJC Solutions, offers organizations and their leaders comprehensive strategies on how to successfully build a safe and effective new normal.
SwipeSense CEO, Mert Iseri sat down with Dr. Consuelos, virtually, to discuss his distinctive journey from physician to pandemic response expert, a battle analogy we could all learn from as we navigate COVID-19, and his impressive entrepreneurial approach to tackling the public health crisis in the U.S.
Mert Hilmi Iseri (MHI): Our SwipeSeries discussions offer me the great privilege of speaking one-on-one with incredible people, like yourself, and your background is particularly interesting. You're a physician, a healthcare executive, a Veteran, and from what I know, you've brought these pieces together in a very unique way.
Can you tell me more about how you got to where you are today?
Dr. Michael J. Consuelos (MJC): Thank you for that introduction. Yes, I'm a general pediatrician by training, and one of the reasons I got where I am today is because of my approach to medicine from a public health perspective. I think about treating the entire family and treating the entire community. A lot of things we'll talk about today, have that lens. I very much see the world through the future of healthcare, from the child perspective and how the family is taken care of.
MHI: That is inherently the challenge we're experiencing with public health. You can't talk about the wellbeing of a child if the environment that the child is in is unhealthy. Can you draw any comparisons to what we're experiencing today with COVID-19, but also public health in general?
MJC: This comparison is very representative of what's happening during the pandemic. There has been really really poor funding and support of public health in the United States for decades. What we're witnessing is a really poor infrastructure, whereby we're just now having conversations around contact tracing and hot-spotting. We haven't kept up with it, not just on the personnel side, but also the technology side, to make sure that we are able to do these things effectively.
If I only treated the child and neglected to care about the family or the community that they live in, yes, I'm treating that child, but I'm not doing a great job. From the pandemic response that we're seeing, if our attention is only on the disease and not the issues around the disease – things like transmission, vulnerable populations with healthcare susceptibilities, we're not helping to treat the problem. There's a huge chasm that's building between communities of color and other areas that are at risk, and bringing out what we call social determinants of health. Things like nutrition and affordable housing and transportation and employment, and the public health support really have been amplified by the pandemic.
MHI: That's just so powerful and important for many of us to think about.
As someone who is responsible for the health and well-being of others, what is keeping you up at night?
MJC: What keeps me up at night? Well, you know, I think what keeps me awake at night is exactly what's happening right now. It's a law of numbers. If you infect a certain percentage of the community, you're going to eventually affect the vulnerable population. I'll bring up again some of our more vulnerable communities - communities of color, who are already disadvantaged. There's a double-triple hit there.
Because of the health status of those communities, it tends to put them in the higher risk category. The mortality and the morbidity in those populations is higher. They are also being hit the hardest in unemployment due to COVID. These are folks who are hourly wage earners, and have to physically be in the workspace to earn their money. They can't be sitting at home, like we are right now, talking over video. They have greater risk of disease, greater risk of economic downturn, which means their nutrition is going to be worse. They're going to be in more crowded environments, which makes their susceptibility to disease worse. It's a continuously evolving piece.
The other piece is the behavioral health impact. I think it's the social isolation and continued evidence that depression and anxiety are growing due to what's happening right now across the board. And that includes addiction issues, child abuse. There are lots of things that we are not talking about that keep me up at night that I think that we are so focused on the pandemic, which is important, but there are many other ramifications to communities.
MHI: No question.
Let's pivot and talk a little bit about your time in the army and how you became interested in emergency response work.
MJC: I was in the Army for six years and that's really where I started doing health executive administrator work, as well as pandemic or emergency response work. That was in the late '90s, pre-9/11, where the biggest threat to us seemed to be more of the biochem releasing of toxins, and those types of threats. Mass shootings and mass casualties were also a big concern. My entry into the world of pandemic response was really through the emergency preparedness field whereby, you kind of had an all-hazards approach from the health systems side.
After the army I was in a large clinically integrated network for about thirteen years in pediatrics. During my time there, I practiced clinically, but also worked on capital planning and was actually a physician in charge of capital allocations for a $110 million capital planning team. I helped build a children's hospital, I did a lot of market research, and focused on quality work. Like you said, I have a lot of interests and have had success in different areas. I look for intellectual stimulation.
In 2014, I joined the Hospital Association of Pennsylvania, and there I was basically their chief clinical person. I was in charge of the quality program, their research department, health policy research, and the emergency preparedness program. We had a multi-million-dollar contract for the state of Pennsylvania to deliver equipment and training to Pennsylvania hospital and healthcare providers for the HPP Program – the Hospital Preparedness Program – funded through HHS, as part of a national program that delivers resources to states and regions to respond to emergencies, post-9/11.
When H1N1 hit, it was a great nexus of my experience in the Army and organizational experiences to really head the pandemic response for H1N1 for a health system. But also, then do some regional and statewide work that we should still be doing today.
Fast-forward to today, over the past year I've leveraged my experience and skills to become an independent consultant. I have retainer relationships with companies in the strategic consulting space and digital health space. Most of my consulting work through my company, MJC Solutions, is at the C-suite level. I find a lot of organizations know what they're supposed to do, but they can't just figure out how to do it. The leaders understand the metrics and the guidelines, but often have a hard time with 'how do we get there?' 'How do we influence change?'
MHI: It's truly an impressive journey. Are there any anecdotes that you can recall either from your time in the Army or your time as a practicing physician that really made you recognize that value of public health and emergency preparedness?
MJC: That's a really deep question (laughs). It was a series of events and series of recognition, not just by me, but by other people as well, that health isn't just acute care.
In the United States, 18% to 20% of our GDP is in the healthcare sector. If you look at spending in healthcare and social services across the OECD countries, the economically advanced countries across Europe, Asia, and the Americas, and if you stack those two in a chart, it's about equal.
When I see studies that show your health is affected by the zip code that you live in, by your educational level, by your access to transportation, those things make me realize that, as you are challenged by a hazard – in this case, a pandemic – your healthcare understands only to take care of the sick people. We as a country don't have as much of an investment and understanding of things that would keep people healthy.
I think the other issue (and one of the reasons I've been drawn to it) is because, as a formal military physician and as a pediatrician, I understand the real threat.
MHI: When I think about the Army, I think about the ultimate institution that embodies "We're in this together." I mean, for what it's worth, we're going to make decisions, we're going to follow it. We might not be comfortable with all those decisions, but here's the mission, here's the enemy, and we have to accomplish it.
I view COVID-19 very much in that the virus is the enemy, we have to stand unified, come together, and respond in a unified manner. What do you think your experience in the Army taught you about this kind of responsiveness? And what are some of the lessons that we can all learn?
MJC: One is the battle analogy. In the military, we understand that you don't wait for the enemy to be at your gates.
The analogy I like to make here refers to a layered defense strategy. If you're on the defense, which we are at this point in time with COVID-19, you want to meet your enemy as far out in the battlefield as possible to probe and understand their weaknesses. You want to slow them down so when they finally reach your fortress, you've weakened them, you understand them, and you've paced the battle out. That's how we need to approach the pandemic.
For an organization to only worry about what's happening inside their four walls is important, but what are they doing to monitor behavior before a student or employee gets to work? Are we doing screening and conducting surveillance in the home? Are we appropriately educating families on how to do that? As people are coming to the workplace or school, are they taking precautions regarding social distancing? Do they have to use mass transit? If we're not asking these important questions and only waiting for symptoms to begin, it's too late.
Also, from a quality perspective, a lot of the work that your team at SwipeSense is doing to help hospitals understand that one layer of protection, from just PPE is not enough, is really important. People call it the Swiss Cheese Model – organizations need to consider multiple layers of protection. If one fails, another one picks it up.
If you're on the defense, like we are during this time with COVID-19, organizations need multiple layers of protection. If one fails, another one picks it up.
MHI: That's a terrific analogy for so many industries and how they can and should be thinking about the risk of threat. That brings us to the next point in regards to some of the things you are talking to organizations about right now as you help advise on reopening strategies. As you mentioned, at SwipeSense, we work very closely with hospital leaders and partner with them on ways to enhance safety, to avoid the Swiss Cheese Model.
What advice would you give a hospital to help drive value and adoption for something as important as their own safety?
MJC: Transparency is important. I talk about the Transparency Paradox often, which is, as organizations get larger, the level of transparency and trust and communication tends to shrink. I run my own business. If I'm not truthful about how I'm running my business – you know right away not to trust me.
You pose a very important question, and that is about how comfortable is the organization in being transparent? I spend time with organization to talk about their level of transparency and trust that allows for there to be openness in psychological safety (I think that's another piece) to allow transparency about people's behaviors.
Whether it's hand hygiene for healthcare workers or students wearing masks in schools, if you offer someone feedback about how they're doing, there are clear implications that you want to keep a streak alive. If you're giving awards, even if you're just transparent to yourself, you see some improvement, but not as much.
If then, within a team, you start showing how that team is doing as a collective, that team is competing "with another team," they start doing better. If people are comfortable with sharing how they're performing as a team, they should also be comfortable with their own data and how they're contributing. If others knew I was only washing my hands or wearing my mask 50% of the time, don't think you think my behavior would change?
MHI: Absolutely. We all have to work together to drive this change, especially as we remind ourselves that we still have a long journey ahead before the pandemic is behind us. I often tell people to take a deep breath because this isn't changing tomorrow. We have to adapt and, more importantly, remain vigilant. We're running a marathon, and this is not just one of those things where someone is going to come up and say, "Hey, I've got it! Here you go."
How do organizations maintain vigilance and engagement? I would love to hear your thoughts on how to keep folks engaged and motivated in terms of overcoming these new challenges that really, truly weren't there before.
MJC: Engagement starts at the top. If you're the CEO and your behaviors, messages, and actions don't speak to engagement and the level of importance, it won't work. It can't just be words. It really has to be actions.
I'm more concerned that organizations are not going to deliver on some of the promises they have made during this time to drive change. We can't assume this is the new normal and return to our old way of business. We have to take advantage of this sea of change that could possibly happen if we try to change it.
MHI: I agree. I think often about what motivates people, what drives somebody forward, what gets them up in the morning. It's a question that I ask myself over and over and over again.
MJC: If nothing else, a leader can remind their teams that we're in this together. Going back to the Battle Analogy, if there is a challenge here to overcome, you're not alone. We're in this together, and we can do it together. No matter what, you're not alone, and we're not alone.

To learn more about Dr. Michael J. Consuelos and his services in pandemic response and recovery, visit his website. You can also subscribe to our blog to receive updates like this directly in your inbox.