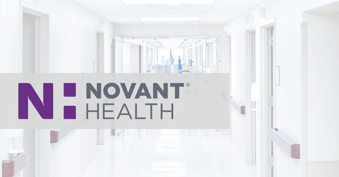 Proper hand hygiene is the most effective method to prevent the spread of infection, yet according to the CDC, clinicians wash their hands less than half the amount of times they should. Behavior modification is one of the most important ways to address hand hygiene compliance, and innovative solutions are available to tackle this challenge. Many leading hospitals are turning to electronic monitoring systems to collect accurate compliance information, leveraging powerful data to influence behavior change.
Turning to Innovation to Accelerate Patient Safety
Building on their commitment to provide a world-class patient experience, Novant Health's Matthews Medical Center (MMC) implemented SwipeSense electronic hand hygiene monitoring to improve hand hygiene performance across the board. When they launched the technology, automated tracking revealed compliance rates as low as 25%. At the same time, some staff had compliance as high as 90%.
In order to quickly boost behavior change and build a culture of accountability, MMC partnered with SwipeSense to launch a fun and competitive Compliance Improvement Initiative. Through a race track-themed program, they set a facility-wide goal to achieve 80% compliance in 80 days. The initiative helped to drive fast and impressive improvement, while also producing excitement and energy to work together towards an important patient safety goal. Read the full impact story to learn how culture and collaboration contributed to their success.


A Low Cost Way to Reduce Costs and Eliminate Waste
Quickly realizing the power of RTLS technology to drive change and improve efficiencies, MMC made the decision to further leverage the existing monitoring structure to track mobile hospital equipment with the SwipeSense Asset Tracking Application.
Read our partnership impact story to learn how SwipeSense technology has enabled Matthews Medical Center to:
Improve hand hygiene compliance by nearly 30%

Reduce the facility's Lost Asset Rate to as low as 3%

Transform culture, generating a friendly and effective way to ensure accountability

Provide strong improvement, driving a system-wide implementation of the SwipeSense safety platform.
Schedule a strategy session with our expert team to learn more about the power of technology to support a culture of safety at your organization.