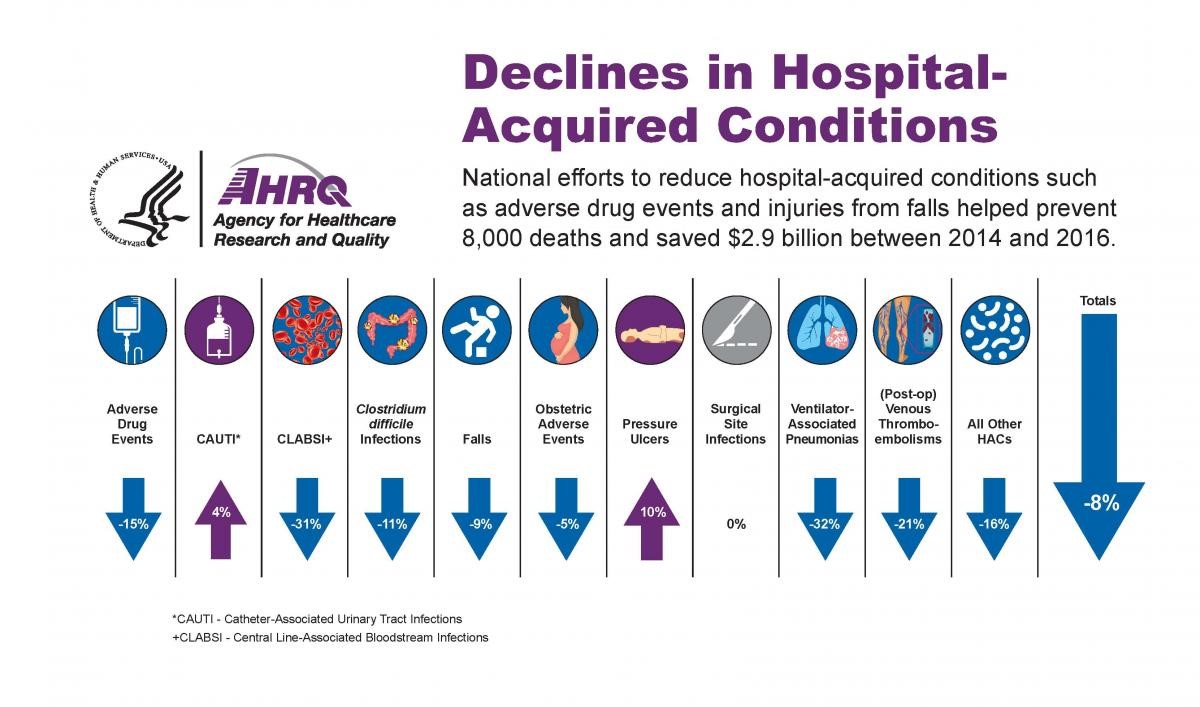 You read that right - 8,000 American lives were saved as a result of declines in Hospital-Acquired Conditions.
Every time I think about why I do what I do - I get extremely excited about the impact we can create in healthcare. We are part of a massive movement that is saving real lives, and the recent data shared by AHRQ reaffirms our commitment to this change. Here is a breakdown of what their recent announcement means:

First of all, what is a Hospital-Acquired Condition (HAC)?
A HAC is a designation used by Medicare/Medicaid to categorize a variety of preventable errors that arise during a patient's hospital stay. Common examples include adverse drug events and Hospital Acquired Infections (HAIs) all the way to a patient falling from their bed.
Based on the AHRQ report, in 2014 HAIs such as CAUTI, CLABSI, C. DIFF and surgical site infections totaled over 337,000 cases. In the same year overall HACs totaled over 2.9 billion.

Why does this matter?
Nobody goes to the hospital to get sicker. If that alone isn't enough, there are also significant mortality rates and financial costs associated with these hospital acquired conditions.
With such alarming numbers it is no surprise that the Department of Health and Human Services (HHS) stepped in. In 2014 they set a goal to reduce the 2.9 billion HACs by 20% over the next 5 years.
AHRQ estimates that if the 20% HAC reduction goal were achieved we would see the following benefits in the 5 years from 2015 through 2019:
~1.8 million fewer HACs

$19.1 billion in cost savings

53,000 fewer deaths
Are things improving?
Based on the recent findings, there was an overall 8% decrease in HACs from 2014 to 2016. This is on top of an already large decrease of 17% from 2010 to 2014. So, it appears we are trending in the right direction towards the 2019 goal.
Two of the largest decreases occurred in rates of Ventilator-Associated Pneumonias (-32%) and CLABSI (-31%). On the other hand, instances of pressure ulcers (+10%) and CAUTI (+3%) actually increased!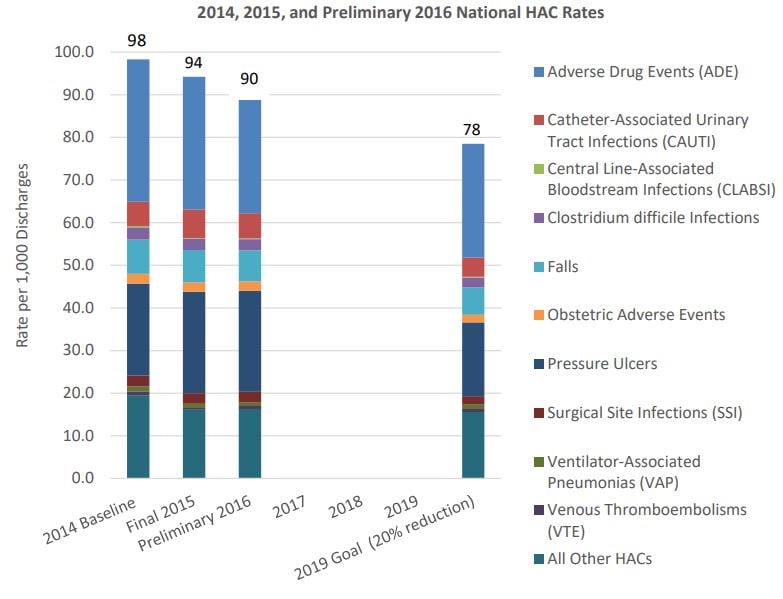 Identify the Problem

Figuring out what the problem is the first step to finding a solution. Start with the data – what HAC areas are the biggest problem at your facility? The AHRQ study surveyed over 1,000 hospitals, but each facility is unique. What might be a problem at one hospital may be a non-issue at another. In the case where there are many problems, focus on the top 1 or 2, otherwise you'll be spread thin and won't make a dent in anything.

Research Solutions

Get Buy-In

Often solutions will take new dedicated resources and support. We all know those resources don't come out of thin air. We suggest getting buy-in by going back to the data. Are surveys showing low patient satisfaction? Are these HACs costing your hospital money? (hint, the answer is yes – use the data in this report to back that up)

Execute & Track the Results

Last but not least, and arguably the most difficult, is to execute the plan! Set goals, timelines and deliverables. Change doesn't happen overnight and that's OK. The one thing that is critically important is to track the results. Without data there will be no way to show improvement. While it may not feel like things are improving, you might be surprised that looking year-over-year there could be big improvements! As we've learned in the world of healthcare, even a small improvement could mean a life saved.
HSS set a lofty goal of decreasing the 2.9 billion HACs by 20% over 5 years. That being said, we still have about 1.5 years left to hit the goal by 2019 – that's not too late to start making an impact today!

Learn more about how SwipeSense can help your hospital make an impact.
---
SOURCE: Declines in Hospital-Acquired Conditions Save 8,000 Lives and $2.9 Billion in Costs. Content last reviewed June 2018. Agency for Healthcare Research and Quality, Rockville, MD. http://www.ahrq.gov/news/newsroom/press-releases/declines-in-hacs.html