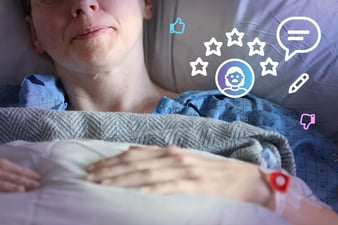 Over the last decade, the Chief Experience Officer (CXO) role has proliferated throughout healthcare delivery systems. It has been tremendous to see the advancement these individuals have made in collaboration with their partners in clinical and administrative areas. I recently experienced the improvements first hand when my wife lacerated her finger cutting a bagel (we have subsequently purchased a bagel guillotine). We visited a retail location of a local health system in Chicago and were in and out within 30 minutes (stitches included!). This would have previously been a several hour event. I attribute this improved experience to the CXO and their colleagues' commitment to making healthcare more easily attainable for consumers today.
In parallel to these improvements, there has been a dramatic transformation in our overall consumer experience as introduced by retailers like Zappos, Amazon, Apple, Target and Bonobos. Patients' expectations have increased as a result and are rightfully asking to be treated like they are as consumers when purchasing healthcare services. Please see a previous article I wrote about this topic in 2017: Making People the Priority in Healthcare. Some health systems are even hiring individuals from these retailers to bring innovation to the patient experience.

Consumerism in Healthcare
This drive toward consumerism paired with the reimbursement implications introduced in the Affordable Care Act, have made the CXO role critical. CXO's are required to be renaissance people focused on the end to end patient experience: from finding your way around the hospital, to taste of the food, to quality and safety. The need to create a better patient experience has increasingly lead leaders to take on technology projects like wayfinding, virtual care, and pricing transparency tools. These leaders have and continue to make tremendous strides in improving our experience.
At the most fundamental level, whether a patient is in the hospital for minor stitches or the treatment of chronic illness, suffering harm in a hospital setting still remains a key driver of the patient experience. If a patient is harmed, the patient experience suffers - period. Hospital acquired infections like C. diff, MRSA, CAUTI, and CLABSI are often preventable, yet hospitals still experience these at significant rates. I recently analyzed data on the Medicare Hospital Compare website for a 16 hospital system and found that there were over 500 Hospital Acquired Infections in a single year. That is over 500 humans that were harmed in the hospital and their health and patient experience suffered.

Hand Hygiene's Impact on Patient Experience
One of the simplest ways to improve patient experience is simply washing our hands. Many consumers of healthcare do not realize that hygiene in hospital systems is an issue. However, that is beginning to change with stories like the recent article in The New York Times and follow-up stories continuing to make headlines about the drug-resistant Candida Auris (C. auris) fungus. As a result, patients are shying away from using hospital services as they are becoming scared to acquire infections within the hospital. As these fears develop, it is imperative for health systems to be in a position to communicate what they are doing about the cleanliness of their staffs' hands, equipment, and hospital rooms.
If it is so simple to wash our hands, why don't we do it? We without a doubt have the right people in our healthcare system. It therefore comes down to solving the process and having a platform in place to address these issues. A process cannot be fixed without having high quality data to rely on. The state of the art for hand hygiene monitoring historically has been manual observation, which is inherently flawed. Given small observation sample sizes, organizations have notoriously thought they have much better compliance than truly exists. They report compliance in the 80 - 90 %+ range when in reality it tends to be in the 20 - 30% range when monitored using an electronic compliance platform. This drives HAIs!
Many patients and healthcare delivery systems do not know that better, more innovative options exist for automatically monitoring hand hygiene compliance amongst clinicians and other healthcare workers without disrupting the workflow. There is now an opportunity to use technology to not only drive cost/waste out of the health systems, but reduce harm events and impact the overall patient experience.

Learn more about how the SwipeSense platform can help your healthcare organization obtain the right data, providing insights that will allow for corrective hand hygiene actions and better patient outcomes.