Without a vaccine or a reliable method to identify individuals with COVID-19, contact tracing will be a key part of many states successfully reopening. Tens of thousands of Americans have applied to become community 'contact tracers' in efforts to help states determine COVID-19 exposure at grocery stores, retail, outdoor areas, and other public places. However, this massive investment to trace exposure outdoors, does not account for contact tracing that will be required in hospitals.

In response to educating the public on how to mitigate the spread of COVID-19, contact tracing has become a household term. But in hospitals, contact tracing has been a core measure of infection prevention. However, even in the event of a more familiar exposure, such as a contagious hospital-acquired infection, traditional contact tracing can take hundreds of hours. This laborious, often detective-like task involves tracking every known person who came into contact with a diagnosed person, and proactively quarantining them for proper monitoring. Most hospitals are relying on manual processes, such as electronic record chart trace backs and even staff recollection to determine which team members entered a room or came into contact with an infected person.

For COVID-19 cases, contact tracing is said to be taking up to three days per case to identify the source and all possible exposures. As experts also discover that many cases are asymptomatic, it has only been that much more difficult to trace steps back. In order to protect healthcare works and patients, data-driven, indoor contact tracing will be critical to keeping people safe - especially as hospitals resume elective surgeries and demonstrate operational readiness to consumers. In fact, the Centers for Disease Control and Prevention have listed monitoring technologies as one of the key methods to help ensure scalable, timely, and accurate data collection for complex contact tracing.

A single exposure can put more than 100 employees at risk

Based on SwipeSense data, we have found that during a busy 24 hour period in an emergency room, there is the potential for over 100 visits, by more than 18 hospital employees in a given room.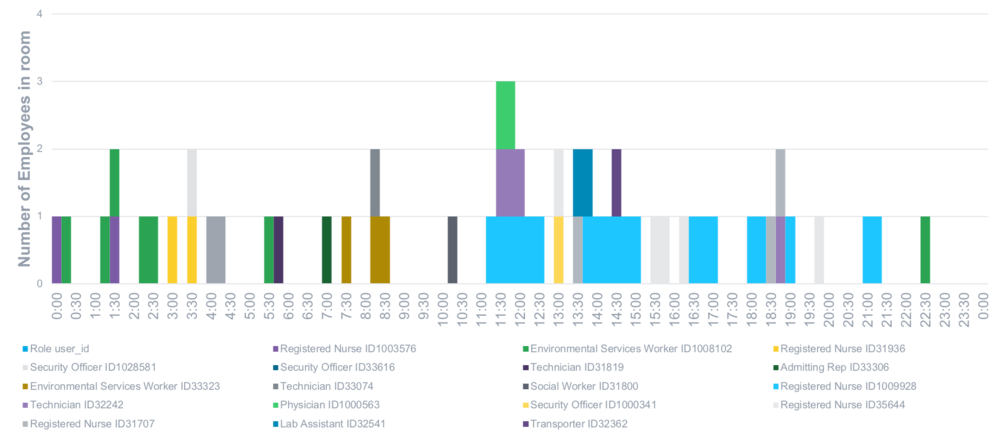 In the event of a single exposure in an emergency room like the one illustrated in the chart above, staff members across roles - healthcare workers, security, patient transport, environmental services, and others are at risk of exposure, and thus, a risk to others that they come into contact with when they exit the room. This raises critical concerns as hospitals consider the ways to safely resume elective surgeries, prepare for an uptick in non-COVID patient volumes, while also supporting the potential for a second wave of COVID-19 cases.
Leveraging real-time, room-level data captured through our safety platform, employee movement data can efficiently facilitate indoor contact tracing, helping hospitals to:
Protect employees and patients from the spread of infection within the hospital

Accelerate exposure response time, allowing for immediate isolation

Identify medical equipment, that has come in contact with a harmful pathogen

We invite you to Request a demo
and learn how hospitals are using our safety platform to help them locate important medical equipment - such as IV pumps and ventilators, monitor hand hygiene compliance, and transform outdated pen and paper infection prevention methods, including nurse rounding, bed side shift reports, and contact tracing.